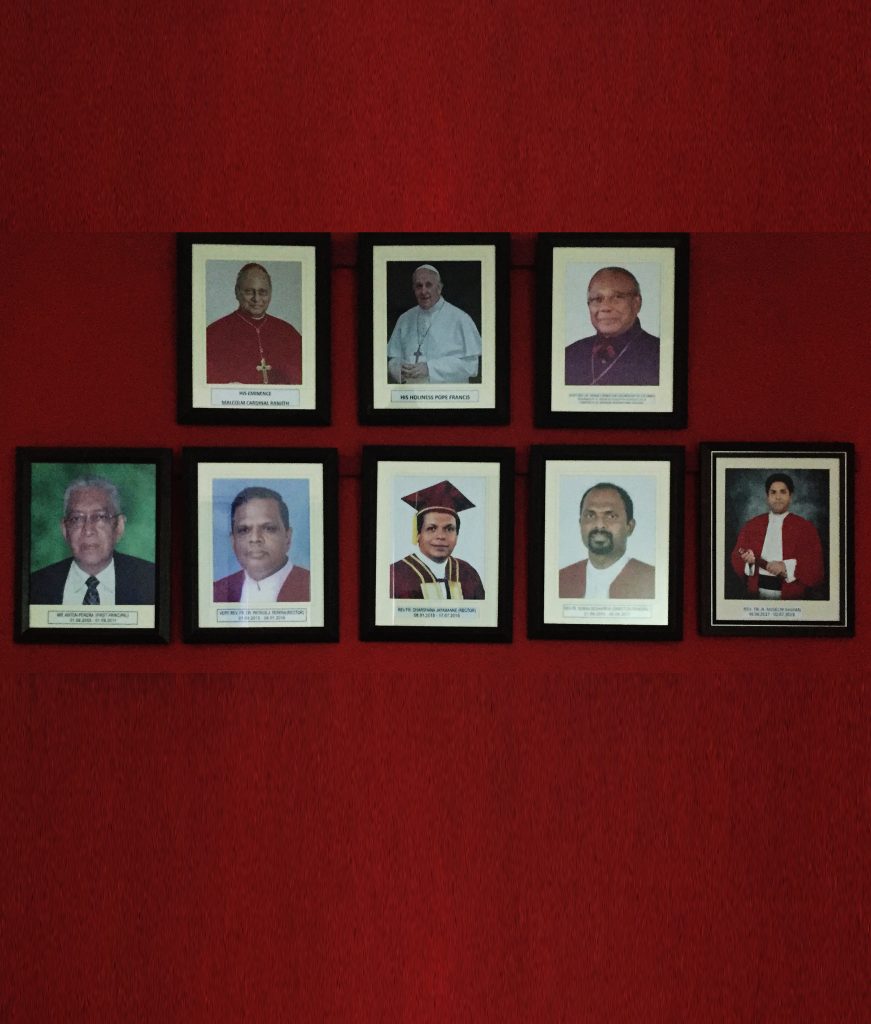 Introductions
It is with the noble objective of inculcating good discipline in the students from early childhood that this code of conduct has been introduced, so that they would be model students much loved and respected by all, and having finished their education, when they step into the society, they would be accepted and respected as law abiding, civic-minded and socially responsible citizens of Sri Lanka.
1. Punctuality
Morning
I) On school days, students should be at the college before 7.20 a.m.
ii) When the first bell is rung at 7.20 a.m. students should line up and stand straight in silence in front of their respective class rooms, or wherever else they are, until the second bell in rung at 7.25 a.m.
iii) When the second bell is rung at 7.25, students should silently proceed to the assembly area and line up.
2. Interval
i) When the first bell rings at 10.40 a.m. marking the end of the interval, students should line up in front of their classrooms and remain silent until the second bell is rung.
ii) No student is allowed to remain in the playground, corridors etc. after the first bell is rung.
iii) When the second bell is rung students should walk in to their class rooms in silence.
3. Angelus
When the bell is rung at 12.00 noon for Angelus, students should stand up in their classrooms; stand still if outside, and join in the prayers.
4. Closing
i) When the first bell is rung at 1.25 p.m. students should pack their bags and get ready to leave the classrooms.
ii) When the second bell is rung, students should line up in front of their classrooms and remain silent until the prayers begin.
iii) Students should join in the prayers, and once the prayers are over, greet the Principal, Vice Principal or the Head Teacher (whoever is present) and then proceed in the order as they are directed to leave by the Prefects.
5. After School Hours
a) Students are expected to go home immediately after school.
b) Students are allowed to remain in classrooms, only if they have extra classes conducted by teachers.
c) Students are allowed to stay on the school premises only if they have any extracurricular activities.
d) Students who wait for school vans should wait inside the school premises. The church premises are out of bounds for them.
6. Student's Record Book
a) School Entry – Every Student should bring the record book everyday. Only the Students who show their Record Books to School Prefects incharge would be allowed to proceed to their classrooms. Any student who fails to show the Record Book would be referred to the Principal or Vice Principal.
7. Absence from School– If a student is absent from school for any reason, the parent should make a note in the appropriate page of the Record Book giving the reason for student's absence, sign, and send it to the class teacher. The student concerned forward his / her Record Book with the parent's note to the class teacher.
8. Dress Code
Uniform
a) Girls – Blue school blouse and grey skirt (The skirt should reach below the knees.)
b) Boys – Blue school shirt and grey shorts for students up to Primary V, and grey longs for students in Form I and above. (N.B. Longs should not be baggy or tight and should not show ankles)
c) Only cloth belts made out in grey uniform material would be allowed to be worn by the students who need them.
d) Shirts and blouses should always be tucked in.
e) Only a white vest should be worn underneath the school shirt or blouse.
f) On the first school day of every week, students should wear the school tie and a long sleeved shirt.
g) The school uniform should be worn by all students, when they attend school, a school function or a private examination as a candidate of the college.
h) Students should not wear the school uniform when they go –
I. For tuition classes
ii. To the cinema
iii. To supermarkets
iv. To hotels and restaurants or any other similar public place or public / private function.
9. Behavior
All students are expected to behave well in the college. The following forms of behaviour would be considered offensive.
a) Disturbing the class or other students.
b) Bullying younger or weak students.
c) Dishonesty, stealing and mischief.
d) Copying at exams.
e) Disobedience, arrogance and stubbornness.
f) Disrespect to teachers.
g) Disregard for teachers' advice.
h) Use of bad and offensive language.
i) Unacceptable affiliations between students.
10. Personal
Boys
a) Fancy hair styles and tinted hair are not allowed.
b) Fancy jewellery is not allowed.
c) Wrist watches are allowed only from Primary 5 upwards, and that too only black or silver in colour..
d) Hair should be short, trimmed, parted and combed.
e) Unusually long or short side-burns are not allowed.
f) Use of hair gel is strictly prohibited.
g) No beard or moustache is allowed.
Girls
a) Long hair should be plaited into two and tied with dark blue ribbons.
b) The parting line should be clear and at the middle.
c) Short hair must be combed and made into two pig tails.
d) Loose hair is not allowed.
e) Eye brows should not be removed or shaped.
f) Cosmetics should not be applied.
g) May wear a pair of ear studs.